Small in Size, Big on Power – RoyPow the Most Powerful Yet.
RoyPow is the industry leader in lithium battery technology for golf carts.

Ranked number one in retrofit lithium batteries in the world, our batteries are a significant upgrade over standard lead-acid batteries and contribute to providing an exceptional golf cart experience.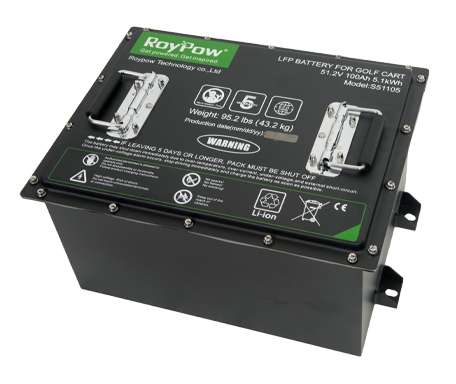 Powering your golf cart with a RoyPow battery offers the following benefits:
With lithium batteries, there's no need to refill distilled water or clean corroded terminals every month (which you have to do with lead-acid batteries). Instead, our lithium batteries offer a retrofit plug-and-play solution for your golf cart.

Better and Constant Performance
Our batteries offer an extra 15km range for your carts and weigh only a quarter of what lead-acid batteries weigh (90kg lighter). They also perform at peak performance at any state of charge in climatic conditions ranging from -20°C to 60°C. That means no speed drops or sluggish handling, just a consistent, smooth-powered ride.
Spend less time in the garage and more time on the course or road. Our batteries charge much faster than standard lead-acid batteries and significantly improve efficiency.

Our batteries are more heat resistant and chemically stable than standard lead-acid batteries. They are also equipped with built-in safety features that guarantee the safety of their user. For example, our RoyPow batteries will always inform you of their state of charge through the subtle colour change from red to yellow on the new retrofitted gauge, instantly letting you know the time you have left before the next charge.
Our lithium batteries last up to 5 times longer than standard lead-acid options (approximately 10 years). They also have an IP56 rating which offers significant protection from dust and water incursion.

Should there be any issue with your product (not caused by mishandling or intentional damage,) we're committed to swapping out your battery at a moment's notice within the five-year warranty window.
Why should you consider lithium batteries when you're perfectly content with your lead-acid battery options?
Well, the truth is that lithium batteries are the only choice. So, if you're tired of dealing with constant maintenance, want more range, lower charging times, or want a safer golf cart, then a lithium battery may be for you. To better understand the difference between the two, see the information below.

| | |
| --- | --- |
| Lithium Batteries | Lead-Acid Batteries |
| Zero maintenance required. | Requires battery water to be filled, corrosive terminals to be cleaned, and carries a significant risk of over charging and dying cells. |
| | |
| --- | --- |
| Lithium Batteries | Lead-Acid Batteries |
| Can last up to 10 years and is more adapted to Mauritian weather. | Last only 1.5-3 years. |
| | |
| --- | --- |
| Lithium Batteries | Lead-Acid Batteries |
| 50% smaller and 70% lighter than lead-acid batteries (approx 43kg). | Considerably heavier and larger than lithium batteries (approx 150kg). |
| | |
| --- | --- |
| Lithium Batteries | Lead-Acid Batteries |
| Charges in under 4-5 hours. | Require on average 8-10 hours charging time. |
| | |
| --- | --- |
| Lithium Batteries | Lead-Acid Batteries |
| Come with safety measures built-in. | Contain gases which make the battery swell. |
Want to learn more about our products?
Contact our team on +230 52575806 / +230 57186915 or  57101334, or by email at: hallo@procarts.mu to learn more about how a lithium battery can change your golf cart experience.